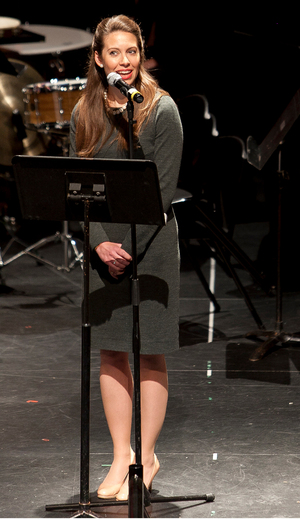 Amy Dickson, Overall Competition Winner
in 1998 and now a world-renown saxophonist
About the Competition
History
The NSW Secondary Schools Concerto Competition is a prestigious classical music competition for secondary school students in NSW and the ACT.
Since 1984, the annual competition has been an important part of the KPO's concert calendar and gives young musicians invaluable performance opportunities. Pianists Alexander Gavrylyuk and Simon Tedeschi, violinists Natalie Chee and Grace Clifford, saxophonist Amy Dickson and the competition's very first winner, pianist Hikari Nakamura have used the competition as a stepping stone towards national and international success. Many more of the finalists and winners are now professional musicians in Australia and overseas. You can see the full list of winners and finalists on our winners and finalists page.
The KPO also recognises the importance of enabling talented young musicians to perform with an orchestra. These opportunities are becoming increasingly rare for young, Australian musicians as national events like the ABC Symphony Australia Young Performers Awards discontinue.
Taking Part
Competitors play at least one movement of a concerto and the finalists will have the opportunity to perform with the KPO at the NSW Secondary Schools Concerto Competition Finals Concert. Solo musicians can either enter the Junior Section or the Senior Section. Groups of musicians can enter the Multiple Section, which is held every other year.
Solo performers compete over three stages with a panel of adjudicators who specialise in strings, wind and piano.
The first stage of the competition is a six minute audition with piano accompaniment. Twenty competitors are selected to progress to the Semi-Finals.
The second stage is the Semi-Finals and competitors have up to fifteen minutes to perform their chosen concerto movements with piano accompaniment. Six semi-finalists are selected to progress to the final stage.
Musicians entering the Multiple Section perform for six minutes at the Junior and Senior Section Semi-Finals. The adjudicators will choose one group as the winners of this section.
After each stage, all competitors will receive a report from the adjudicators.
At the Finals Concert, all individual finalists and the winners of the Multiple Section play the movements of their chosen concertos with the KPO.
Prizes
Following adjudication, the prizes are awarded at the end of the evening for the Overall Winner, the Barbara Cran Award and the Barbara Robinson Award. The players of the KPO award a prize to the best individual performer based on their performance during rehearsals. The Multiple Section prize is also presented. Perpetual Trophies are awarded to the schools for the first three prizes which remain on display for one year.
Our Supporters
Ku-ring-gai Council and the Barbara Robinson family are major supporters of the Concerto Competition and additional support comes from local businesses, individuals and local schools. Bayer Australia have been sponsoring the Overall Winner prize for over 20 years.