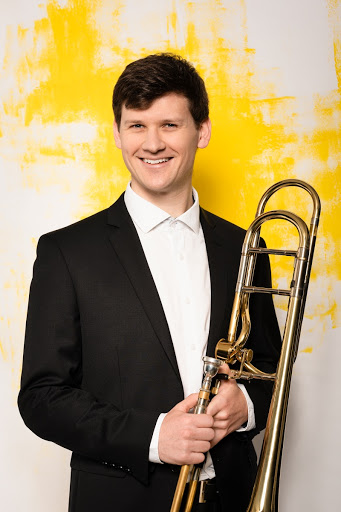 Testimonials
What people say about the competition
"I would like to first of all thank you all for being such dedicated musicians. It is great to see such a strong musical community supporting the youngsters of the musical world through the concerto competition. Over my three years as part of the competition I have seen it grow bigger and the standard get better each time. It is reputable on all of your behalves for the time and effort you put in to make the final concert such a success.
"It has been an honour to receive the KPO Players award for the last 2 years. Receiving this award has, to me, much more significance than receiving the overall prize, and I humbly thank you all for it.
"Performing with an orchestra is an experience that doesn't present itself to many, and so when I say that performing with all of you will be something that I will never forget, I mean every bit of it."
Jonathon Ramsay, 2011, now Principal Trombone of the Tasmanian Symphony Orchestra.
"As a thirteen year old performing with an orchestra was a far off dream for me that I honestly never thought would happen! However the competition made this dream into more of a reality; and every year I was motivated to work hard and perform to the best of my abilities. The chance to perform with the rich, sonorous texture of an orchestra, was such an inspiring incentive. Regardless of how I went in the competition, I really believe that every year I grew as a player.
"Additionally performing the Lalo concerto in the 2012 finals was such an incredible experience that I will always treasure. I am writing this just to express my own gratitude to the KPO for organising the competition - which I'm sure will continue to motivate young musicians just like myself."
Johanna Blake, cellist, now a scholarship student at the Royal College of Music, London
"All rehearsals and the performance with the KPO I will treasure as being the first time I had an opportunity to play with a full orchestra a piece of my choice. If I do play the piece again I will hear in my mind the KPO behind me. The experience that the finals gave me is an incredible prize indeed!"
Cindy Chau, Finalist 2011 & 2012
"Thank you for the wonderful opportunity you as an organisation have given me. It's truly amazing to have been able to play this standard of repertoire backed by a proper orchestra."
Andrew London, French Horn finalist 2015 & co-winner, Barbara Robinson Award
"I was delighted to be asked to be an adjudicator for this year's Concerto Competition. The standard of all Finalists was very high and the level of preparation showed the respect they hold for this Competition. I was also very impressed with the musical and personal support the Orchestra provided these young people. It is a great thing to be providing so many young musicians with an opportunity to play as soloist with orchestra in such a supportive environment. This is an invaluable experience and one which is all too rare. NSW can be very proud of this community who are investing so tangibly in the youth of today and musicians of the future."
Michele Walsh, Head of Strings, Queensland Conservatorium, Griffith University & Adjudicator 2015 Competition
"Firstly, as a teacher and parent of KPO CC entrants I would like to say a huge thank you to you, the committee and the KPO for providing the wonderful opportunity of the annual Concerto Competition. I believe this event has greatly contributed to the rapidly increasing standard of playing amongst Sydney's young students over the years!
"Today I'm writing about the Final held last Saturday, which was of an extraordinarily high and consistent standard."
Janet Davies, June 2015