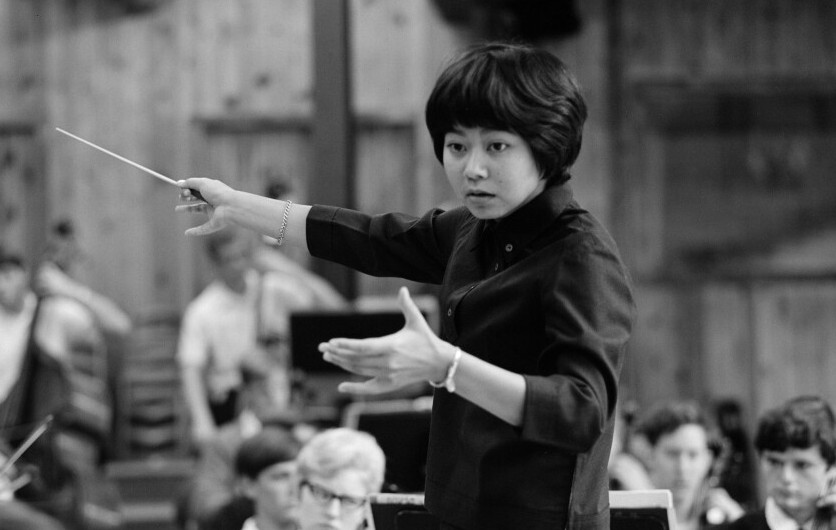 A Short History
The Ku-ring-gai Philharmonic Orchestra (KPO) was founded in 1971 by the Chinese-Australian conductor Helen Quach, with the support of the Ku-ring-gai Municipal Council and the Australian Council of the Arts, under the patronage of Alderman J.F. Bennett (Mayor of Ku-ring-gai), Sir Charles Moses (ABC), Rex Hobcroft (Director of the N.S.W. Conservatorium of Music), Sir Bernard Heinze and John Hopkins (both conductors of the SSO).
The initial intention was to provide an opportunity for good amateur musicians to play and perform serious orchestral works under professional guidance. There was a strong response from players both inside and outside the municipality and some sixty members joined up.
Today the KPO draws on a pool of over one hundred players - professional players, music teachers, capable amateurs and advanced students from throughout the Sydney metropolitan area. The orchestra has become an integral part of the cultural life of the Ku-ring-gai community and is now acclaimed as one of Australia's finest community orchestras.
Over the last thirty years the KPO has built significant social and cultural capital in Ku-ring-gai. The orchestra presents an annual series of symphony concerts, and has also contributed to community life through performances for Local Government, local charities, the Sydney Adventist Hospital, Eryldene, the annual Australia Day Concert in Bi-centennial Park, performances with the Sydney Conservatorium Choir, Sydney Youth Jazz Ensemble, Sydney University Graduate Choir and Ballet d'Action.
The orchestra has toured to various regions throughout NSW including Mittagong, Windsor, Wollongong, Singleton and most recently, Taree.
The orchestra has enjoyed presenting outstanding soloist to Ku-ring-gai audiences. Many of Sydney Symphony's finest players (Donald Hazelwood, Catherine Hewgill, Kees Boersman, Ron Prussing and John Cran amongst these) have welcomed the opportunity to perform as soloists. Leading teachers from the Sydney Conservatorium (Phillip Shovk, Christopher Kimber, Mark Walton, Wanda Wilkomirska) and up and coming young soloists (Richard Tognetti, Bill Hennessy, Natalie Chee and Simon Tedeschi) have featured at its concerts. Providing such opportunities for these fine musicians is an important role of community orchestras.
For more than a decade, the KPO has taken a leading role in presenting Australian or contemporary orchestral repertoire side by side more traditional orchestral works. Three works have been commissioned by the orchestra, the most recent being a work by Anne Boyd "...at the rising of the sun...", performed in 2001 to celebrate the Centenary of Federation. In 2005 the KPO gave the world premiere performance of Nigel Butterley's Never this sun, this watcher, a challenging piece specially written for high standard amateur and community orchestras.
In September 2002 the Ku-ring-gai Philharmonic Orchestra was voted Australia's Community Orchestra of the Year by The Orchestras of Australia Network, for having significantly raised the public's perception of orchestras. The KPO received this accolade again in 2004.
Over the years conductor development has been incorporated into its program through conductor workshops or conductor-in-training positions.
Educational projects are a vital component of its annual calendar - the Kids' Proms concerts are now a very popular annual event. Another project that has evolved over the last 22 years is the annual Secondary Schools Concerto Competition where, after two audition rounds, finalists perform a movement from their chosen concerto with the orchestra accompanying them. This is a challenge not only for the very gifted young performers but also for the orchestra who often have seven very different concertos to present at the finals concert. Very few competitions offer so many finalists an opportunity to perform with a professional-standard, complete orchestral accompaniment.
The orchestra has enjoyed the musicianship of many renowned conductors from its inception: Christopher Nicholls 1973 - 1980, Brian Buggy 1981 - 1982 as resident conductor and as guest conductor many times since, Richard Gill 1982 - 1985, David McBride 1985 - 1986, Carl Hammond 1986 - 1990, Neil Flottman 1991 - 1994. Since 1995 the orchestra has been under the direction of Maestro Henryk Pisarek, who is also the Artistic Director of the KPO. He is widely acknowledged as having contributed significantly to raising the orchestra's performance standards. Guest conductors have included such names as Stuart Challender, Carl Pini, Donald Hazelwood, Wilfred Lehmann, Myer Fredman and Simone Young.
The KPO began performing in the Wahroonga Activities Centre. Highlights have been performances in the Sydney Opera House and the Sydney Town Hall. Concerto Competition Finals concerts have been presented in several school venues - Roseville College, Masada College, Sydney Grammar Prep School and Abbotsleigh. The orchestra's current home performance venue is the Ravenswood Centenary Centre Auditorium, Henry Street, Gordon.
A number of players have been involved with the Orchestra for many years. Barbara Cran, Tess Jones, Barbara Robinson, Robert Kitchen, Christopher Bertram, Martin Brown, Elizabeth Acton, Roger Hiller, Suzanne Cattell, Paul Porkony and Louise Keller have all been associated with the Orchestra for 20 years or more.
One of KPO's wishes for the next decade is that Ku-ring-gai builds a modern, world-class performing arts venue for the KPO and the many fine artists and musicians who make Ku-ring-gai their home. Players of the KPO are dedicated to presenting exciting, high quality, varied programs and believe it would be appropriate for the municipality to have an equally exciting, high quality performance venue within Ku-ring-gai in which it could present its concerts to bigger audiences.